LAST UPDATED ON MAY 20, 2022
Tired of waiting for your chickens to lay eggs? Most chicken breeds take 21 days to hatch then another 6-8 months to lay eggs. Celadon quail hatch in only 17 days and start laying between 6-8 weeks old. Males can be harvested between 5-6 weeks as a food source. Yes, you read it right. Read that again if you need to. This article is intended to inform you about this species of domestic quail and if quail are a good fit for your farm or backyard coop.
Notice: Our hatchery has closed for Spring 2022 after the tragic loss of our flocks in fall of 2021. Not to fret, we went on an egg-pic 2,800-mile road trip to collect excellent stock from several states along East Coast, including our first ever bantams and quail. We have live mealworms and frass for sale in the meantime, and will have goat's milk and tallow soaps in our shop soon. Thanks for your interest. SUBSCRIBE to get updates on available chicks. Subscribers are notified before Instagram and Facebook.
What should I know before buying quail?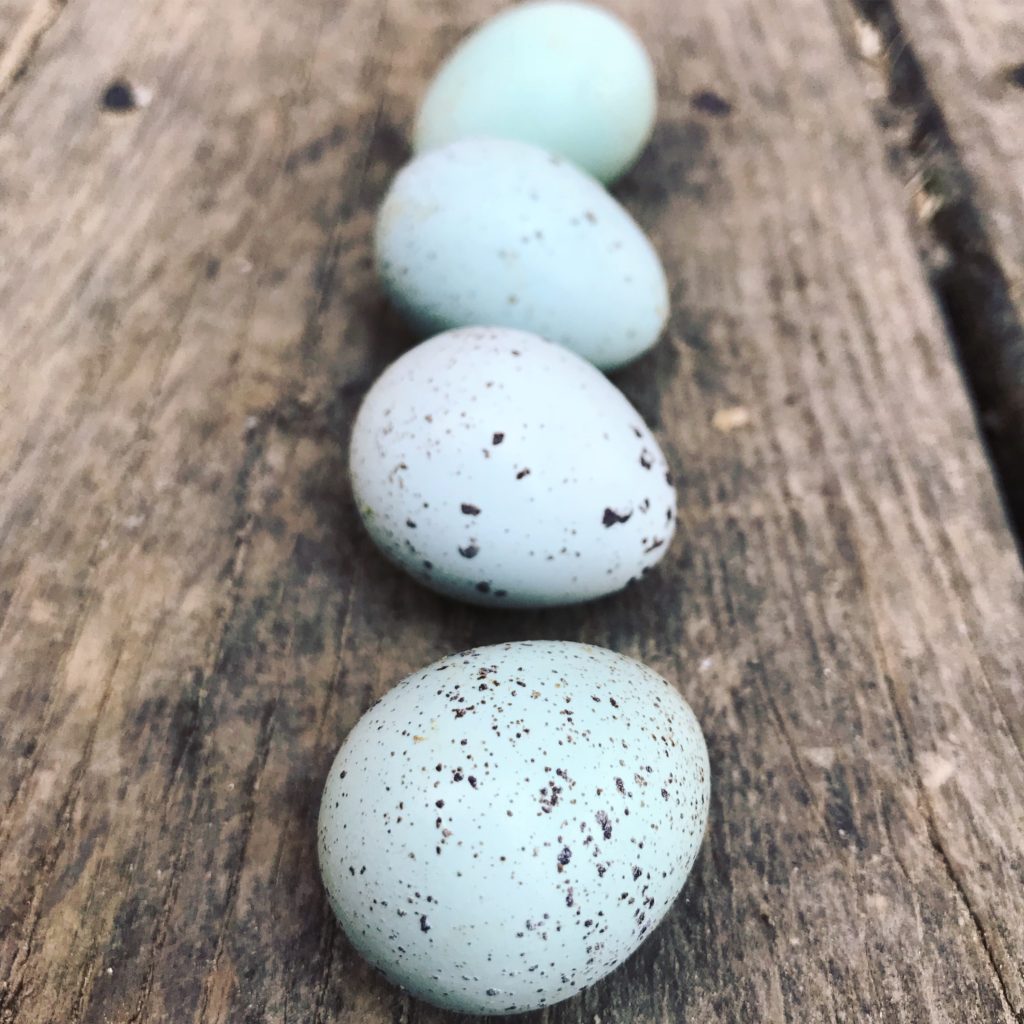 This is a question worth investigating, as you should before purchasing

any

livestock or pet.
When I research, I dive deep. While this is *NOT* firsthand knowledge, it has been backed up by several sources for the best possible educated decision to buy quail hatching eggs for our farm. I wrote this article based on many sources while researching quail for our farm. This includes the breeders I'm purchasing from, co-operative extension pages, and three local breeders here in Maine for climate-specific housing information.
*If you are scoffing at anything here, shoot me an email: WheatonMountainFarm@gmail.com with facts to straighten my ass out.
Quail Perks:
No roosts
No nesting boxes
No crowing
Rapid maturity
Freaking adorable blue eggs
Delish delicacy harvested at 5-6 weeks
Nutritious eggs with many health benefits (I will cover this in a future article.)
Are you kidding me?
Housing:
For a poop-tray collection style floor, use 1/4″ mesh hardwire cloth for juveniles and 1/2″ for mature birds. Make sure to use vinyl coated hardwire cloth to reduce foot sores. We plan to use a rollaway design in the laying cages with a slight tilt to collect the eggs. As their eggs are laid, they will gently roll to the front of their enclosure to a tray that is out of their reach. They tend to plop them all over the floor, and this will help reduce reaching in their cage and causing any unnecessary ruckus (see "startling" below) and will keep them cleaner. Provide them with a little spot to rest their feet on that can be removed often to be cleaned.
Ventilation is important to consider. Celadon quail manure produces substantially more ammonia than chickens. On the same note, if you are in a cold climate, like here on our farm in Maine, their tiny eggs can freeze quickly and should be sheltered from drafts.
In nature, quail hide in hollow stumps, deep leaf litter and under low evergreen bows that touch the ground to avoid the elements and hide from predators. Although hardy, you must take care to provide them with enough shelter to huddle in on the coldest days.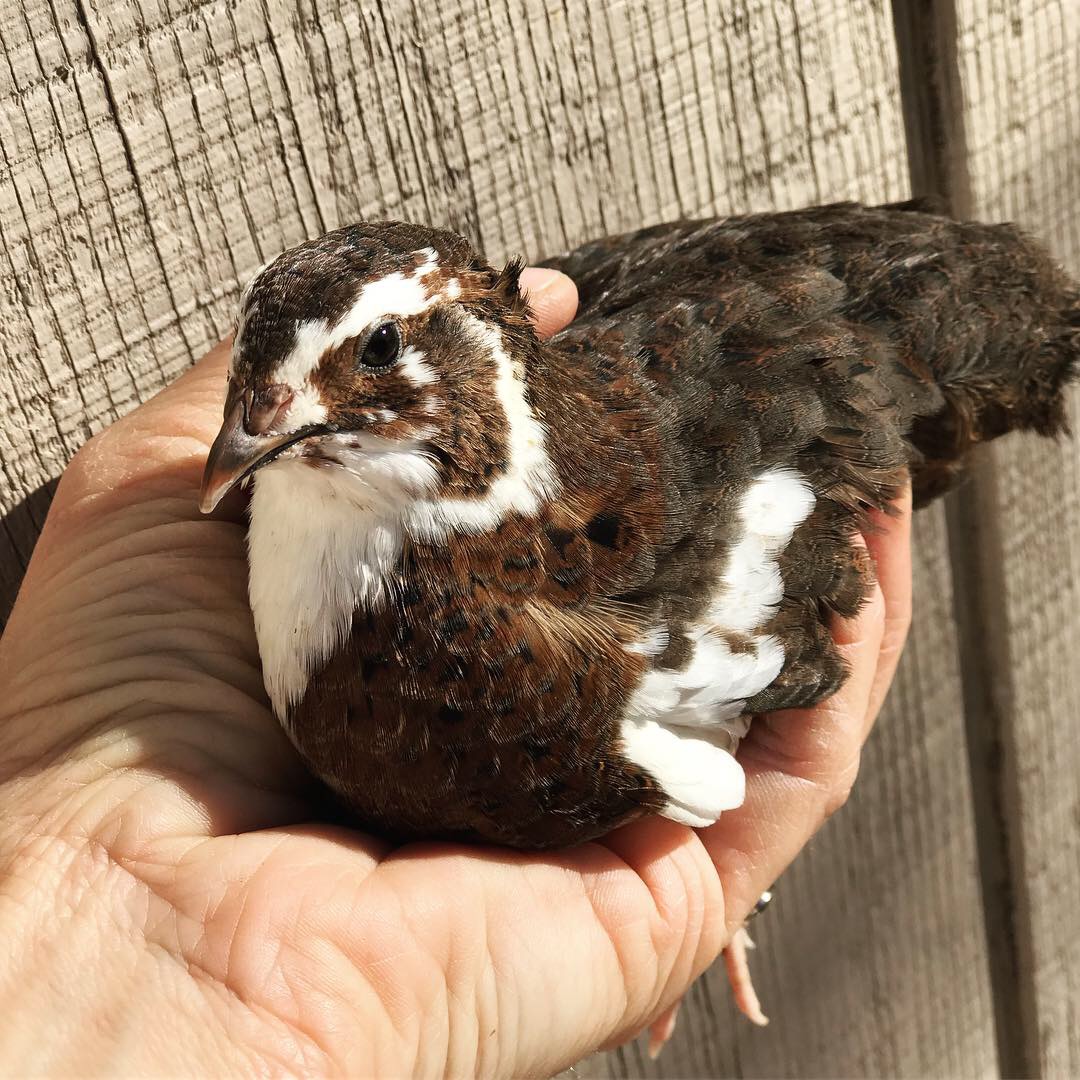 Supplemental heat in extreme cold
I plan to use a seedling starter mat for gentle and even heat. It will be used ONLY when it's below freezing inside the barn, not just the forecasted temps. Do not allow direct contact with the mat. The whiplash of direct contact during a serious cold snap is just asking for illness. Place cardboard over the mat that is replaced often for cleanliness.
When the time comes, I will share our design and how it works in another article. It's best they do not have heat on a regular basis, just enough to warm their bones but not to become dependent upon. Never use a heat lamp.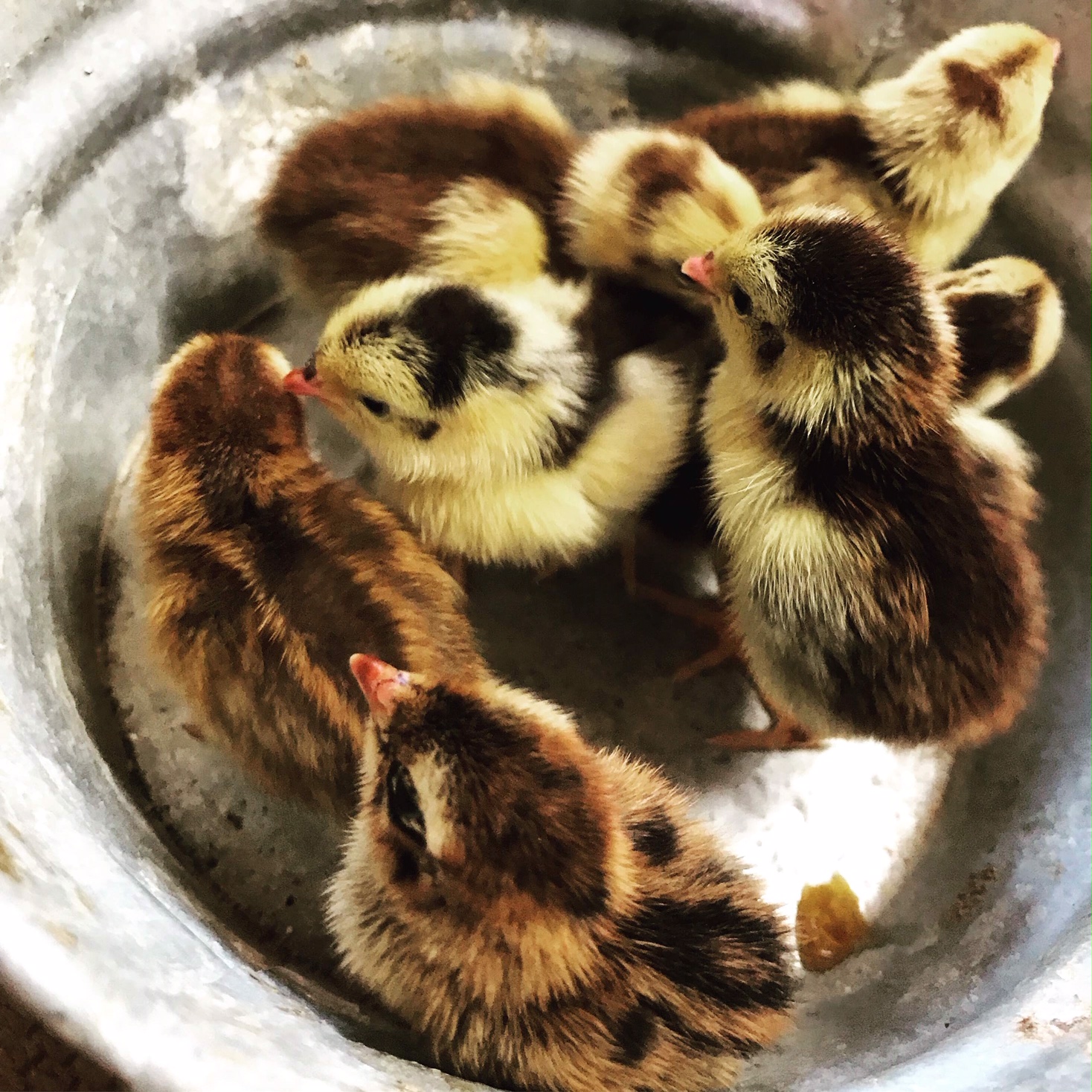 Startling:
Move slowly around quail, especially when they are juveniles. Give them an opportunity to settle away from where you are working, like when you are cleaning their pen and collecting eggs. Offer them treats and show them you are their friend early-on.
If startled, quail could break their necks on the roof of their pen or enclosure. This gives you two options when building a coop, cage or pen: have a very high ceiling that they will not reach, or a very low one so they won't have much momentum to hit when they "pop".
Alternatively, a soft, loose material (like burlap) can be stretched across the run, just below the roof, to soften the blow for sudden flighty behavior.
Place or build their enclosure away from ruckus. Passing cars, dogs runs, busy children, and abrupt loud noises should be avoided to reduce this behavior. A dark blanket can be gently draped over the cage during times this cannot be avoided, like when mowing the lawn.
Make a habit of softly announcing your presence, saying the same thing each time, before they catch sight of you. Hands-on care and delicate, friendly handling from an early age will reduce this instinctual behavior. Offer treats and teach any little farmers in your family to slow down when approaching. We have an eight-year-old farmer, so I understand how challenging this can be.
Hatchling care:
When the first hatchlings emerge, feed the little quail a high protein *non-medicated* starter crumble. A sieve can be used to sift out the smallest pieces for the first week of life. Provide drinking water which is changed daily. If you use a standard chick waterer, put pebbles in it so it is not as deep. They can fall in, get trapped in the smooth bottom and sides, and drown. There are specialized water towers made for quail, we have not yet tested them ourselves, so I'm reluctant to share more information on them at this time. Brood them otherwise as you would chicks.
Diet:
As quail reach a month old up until they begin to lay, they require grower crumble such as a turkey poult feed to provide the correct protein. At full maturity, quail require a feed which contains 18-20% protein. Some specialist quail feeds contain seeds as well as pellets. Adult quail eat around half an ounce of food per day.
A quail's diet should be supplemented with greens, like grass clippings (free from pesticides or the danger of contamination from other birds) or even weeds from your garden. We plan on growing Amaranth grain in our garden to supplement their feed. It can produce as much as a pound per stock, is fairly inexpensive, but has a long growing time for our climate. We will also feed live mealworms from our mealworm farm.
Laying & Lifespan:
These amazing little feather babies begin to lay between 6-8 weeks. Quail lay the most in their first year, and often just as much in the second, until they reach between 2 years old when the laying slowly but gradually tapers off. In an efficiency-based homestead system, it's ideal to butcher or sell hens at 2 years old and replace them with new layers. Quail that are fed a balanced diet, kept in optimal housing, and not over crowded, may live as long as six years and will continue to lay.
Lifestyle:
A bored quail is a naughty quail.
Provide an area with branches to climb on and to go under to provide them with things to do. Change it up a little each time you check for eggs and clean. Dust baths are a must. Quail will spend hours preening themselves. Boredom and lead to feather picking, squabbling, and reduced productivity.
Too many males in an enclosure will cause dominant males to literally scalp or peck the eyes out of smaller males. This kind of stress reduces mating, because the new goal of the roosters in the cage is to win mating rights instead of simply mating. In gleaming information from several resources and the breeders I have purchased from, I recommended 5 hens for each rooster, in no smaller than a 6-square-foot floorspace per breeding set.
Breeding sets should be limited to no more than 3 roosters ever being in the same cage—even with the recommend ratio. I'm building a shelf-like unit with three cages. Each of the three cages will be 6-square-foot with 15 hens and 3 roosters each. This is where we will start as new breeders. We may keep less in each compartment if it poses an issue, but never more than 18 total mature birds.
Immediately remove injured birds as they will continue to be picked on, likely to death. Do not take this warning lightly.
As these birds will serve as a food source for our family, we will cull and consume any injured quail immediately. If you will be keeping them as pets, have a plan for this before purchasing quail hatching eggs, just as you would for hatching out too many roosters in a chicken flock.
Predation:
Lest not forget: where there is grain, there lives a rat.
Rodents can quickly become a problem because Celadon quail are instinctually ground dwellers and leave their eggs laying around. The small size of the eggs and chicks make them especially easy to carry off by tiny predators. Keep this in mind when considering how to house quail to ensure security in their runs and housing.
We are building a three-compartment stacked cage system on tall legs and completely enclosed by 1/2″ hardwire cloth. It will be inside our barn, safe from the elements, larger predators, and from startling.
Setting a trap around their enclosure on a regular basis couldn't hurt. I stick one in the middle of milk jug. I cut the end off to put the trap in, then tape it shut, with a tiny hole so any escaped poultry or other pets cannot get hurt. I section of PVC pipe can be used also. Set the trap, and gently slide it in with a stick so it's out of pecking-distance. I use raisins smooshed onto the little bait holder with peanut butter smeared over it. Works like magic.
Origins:
Celadon Quail are a variety of Coturnix Quail which carry the rare, recessive celadon gene, resulting in blue eggs. Coturnix quail were originally known as Japanese quail before they were imported to the US in the late 1800's from Europe and Asia. Coturnix Quail are the hardiest of the quail species, and most commonly raised for egg and meat production. To learn about wild quail, visit Quail Forever.